Tankless Water Heater Installation & Repair
from San Jose to San Ramon, CA
Tankless water heaters are a great investment. They are energy efficient because they heat only the water you need. They can also lower your utility bills. Tankless water heaters have a long life span of 10+ years when maintained properly—and we've seen some last dozens of years, thanks to regular maintenance.
Bay Water Plumbing can handle all your tankless water heater needs, from service and repair to replacement and installation. We also conduct yearly maintenance on tankless water heaters in the Bay Area.
CALL US TODAY
CONTACT US
We Can Help With Your Water or Sewer Line Repiping Needs!
Benefits of Tankless Water Heaters
Gas-fired tankless water heaters are more efficient than standard tank-type heaters. They only heat water as needed and shut down when water demand ceases. That means they don't use unnecessary energy. With the energy savings and a 20-year life span, they make an excellent alternative to standard heaters, which typically last half as long.
Tankless water heaters also deliver a constant supply of hot water. That means no more waiting for your standard tank to fill. Your family can take shower after shower without running out of hot water.
Servicing & Maintaining your Tankless Water Heater
Most manufacturers recommend yearly servicing for tankless water heaters. Especially in an area like the Bay Area, with hard water. The calcium deposits left behind by our water must be cleaned out on a regular basis. If you don't do annual servicing, you'll begin see a drop in water temperature. And if you wait too long to service, calcium deposits will begin to eat away at your tankless water heater, causing pinhole leaks. 
In addition to yearly flushing, you need your burner cleaned every three to five years. Otherwise, you risk carbon buildup, which can cause flame loss or ignition failure.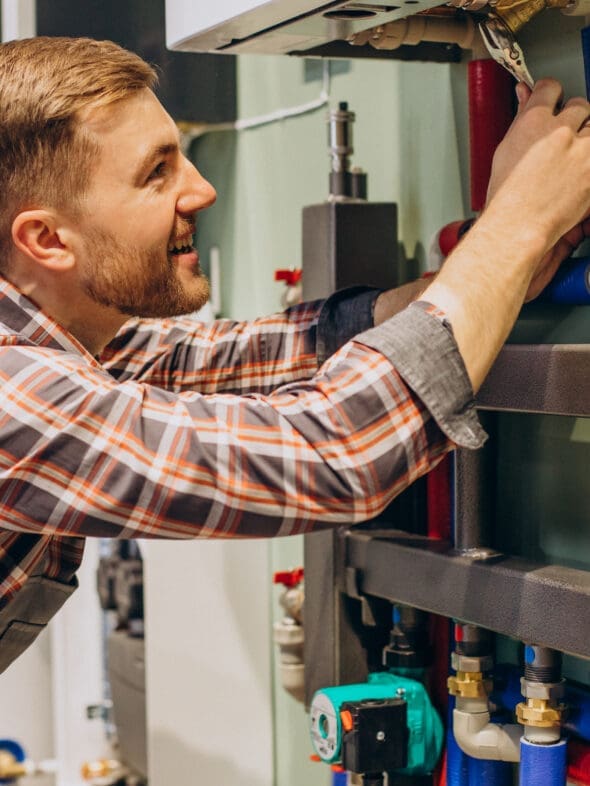 Tankless Water Heater Installation & Replacement
For tankless water heater installation, call Bay Water Plumbing. Whether you're going tankless for the first time or upgrading from an older unit, we've got you covered. We will come to your home, assess your space, and provide you with options and estimates.
During the assessment, we'll assess your gas lines. Tankless water heaters require more gas pressure than other appliances. A standard tankless water heater uses 40k-50k BTUs of gas, which requires a ½" gas line. But if this type of a gas line powers multiple appliances, it likely isn't enough to power an additional tankless water heater.
Whatever your current situation, we will assess and make recommendations. We'll test your gas pressure and ensure the sizing is adequate. Depending on the amount of fixtures running of the same gas line, we will recommend the best option. Usually, it is recommended to run a new ¾" independent gas line.
In addition to gas pressure, you also need good ventilation wherever your system is installed. Generally, your ventilation should go straight up to accommodate your new system. If not, we will probably need to adjust it. We also want to be sure that you've chosen the right size of tankless water heater. A standard home with two to three bathrooms should be fine with a 199K BTU tankless water heater. Larger homes or those with heavily customized showers may require at least 2 tankless water heater.
Tankless Water Heater Repairs
Several errors can occur with a tankless water heater. You can have failure with the fan, the gas, or ventilation. Your tankless water lines could be installed backwards. If your gas pressure drops below a certain amount, you could experience ignition failure. If your burner needs to be cleaned out, you could also experience flame loss.
You might feel small bursts of cold water in your shower, or have one specific faucet that never gets hot water. Whatever the issue, give us a call. We'll come to your home and diagnose your problem. If it's something we can fix, we'll give you a quote. If it's something else, such as getting the gas company to raise your pressure, we will explain everything you need to know.
Tankless Water Heater FAQs
When people go tankless, they often believe they'll have instant hot water at their disposal. But what makes tankless water heaters efficient is that they don't make your water hot until you turn them on. That means the water sitting in your pipes is cool.
Many water heater brands have a recirculating pump. You can set a timer that recirculates your hot water every so often, keeping the water in your lines heated. A recirculating pump gives you more "instant" hot water.
Ultimately, this is your choice as a homeowner. At Bay Water Plumbing, we install all five of the major tankless water heater brands: Navien, Rinnai, Noritz, Takagi, and Rheem. Whichever brand you decide is best for your home, we can install and maintain for years to come. If you have a question about which tankless water heater is right for you, give us a call at (510) 930-3312.
The State of California has approved several rebates in recent years for the purchase and installation of a tankless water heater. They have also approved tankless water heater tax credits. Because these approvals happen on a year-to year basis, we recommend googling "California rebates for tankless water heaters" to see what current rebates are available. If you have any questions or would like to discuss, please give us a call.
Fast and Friendly Service
Bay Water Plumbing & Water Systems is a family-owned and operated plumbing company serving from San Jose up to San Ramon. We take pride in being residential plumbing experts dedicated to customer service. Our fast, friendly technicians are always honest and provide free estimates with fair and up-front pricing. Bay Water Plumbing & Water Systems is here to exceed your expectations.
If you're in the greater San Francisco Bay area, CLICK HERE to schedule online or give us a call at (510) 900-9888!
Bay Water Plumbing Tankless Water Heater Reviews
"Tankless water heater started having errors every day, so I called and had Al come out to diagnose the problem. It turns out I have a couple potentially bad components, so he took care of ordering parts from their distributor and Al was upfront about all costs and timeline. It was fixed on the timeline quoted and less costly than replacing the whole heater. Now the water heater performs better than ever."
"Alvaro came to flush our tankless water heater. He was professional and knowledgeable. Soon after he left, I noticed the kitchen faucet had lower pressure than normal, and he came all the way back to empty the sediment in the faucet screen and showed me how to do it in case it happens again. His prices are reasonable, and he is very polite. Definitely recommending him to all my friends!"
"Great work and equally great service (they were very nice & straight to the point)! They came on the same day they were called & finished work within 2-3 hours. They installed a new water heater in our garage and new kitchen faucet. Will definitely use them again!" Additional Bay Water Plumbing Services